How to provide liquidity to QuickSwap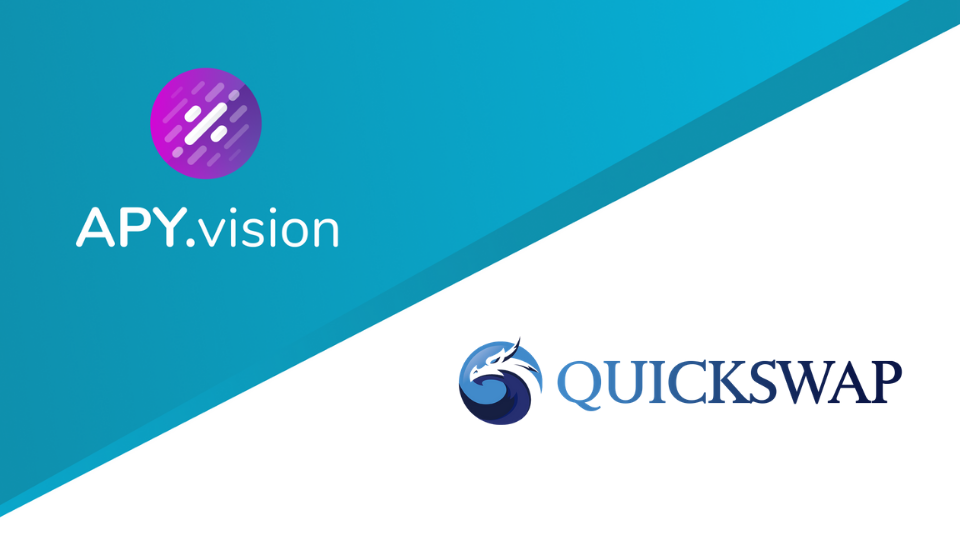 MATIC & QuickSwap
Matic Network is a Layer 2 scaling solution that achieves scale by utilizing sidechains for off-chain computation while ensuring asset security using the Plasma framework and a decentralized network of Proof-of-Stake (PoS) validators. QuickSwap is a Uniswap fork that runs on the MATIC network and has about $65 million USD in liquidity as of Feb 27, 2021.
About Polygon/Matic

Polygon is a protocol and a framework for building and connecting Ethereum-compatible blockchain networks.
One QuickSwap VISION/ETH LP token can track up to $25,000 USD on APY.Vision with liquidity mining
Get your APY.Vision Pro membership while embracing Layer 2 technology and help us celebrate the launch of our MATIC support. MATIC support will be coming to the main site soon, but for now, visit matic.apy.vision to track your QuickSwap LP tokens.

What you will need
Metamask wallet
MATIC tokens in your MATIC wallet for gas
ETH and VISION tokens to LP and then stake
How do I move tokens between the Ethereum and the Matic Network?
Important note: DO NOT SEND THE UNI LP TOKENS directly over to Matic. You have to remove liquidity from Uniswap first and then send both VISION tokens and ETH over the MATIC bridge. Once the tokens have been moved to MATIC, you can then add liquidity on Quickswap.
More information on how to get tokens on MATIC here.
NOTE: If you are transferring ERC20s like VISION or ETH, use the PoS bridge.
Step 1: Set up a custom RPC for MATIC in MetaMask, as explained here.
Step 2: Connect MetaMask to the MATIC Web Wallet, found here.
Step 3: Click on > Matic Wallet > Deposit and deposit any token running on the Ethereum Network to the Matic Network.
Step 4: You're now ready to begin exploring Layer 2 and using QuickSwap.
NOTE: Before transferring any ERC20 to Layer 2, you should confirm the token you're sending has been mapped to the Matic Network. You can find more information on the MATIC FAQ page.
How to provide liquidity and stake to earn QUICK
Once you have the assets on layer 2, you can supply them to the pool pretty much the same way you do with Uniswap. Once you have the pool tokens, you can stake them to earn your QUICK rewards.
APY.Vision does not give investment advice and always insists that you do your own research. Read our full Legal Disclaimer.
Check out APY.Vision!
APY.Vision is an advanced analytics tool for liquidity pool providers and yield farmers. If you're using any DEXs, AMMs, or liquidity pools this is the tool you will need to easily track the ROI of your liquidity provider and yield farming activities. Try it now!
More Educational Content