PoolTogether + APY.Vision Loot Box Community Pool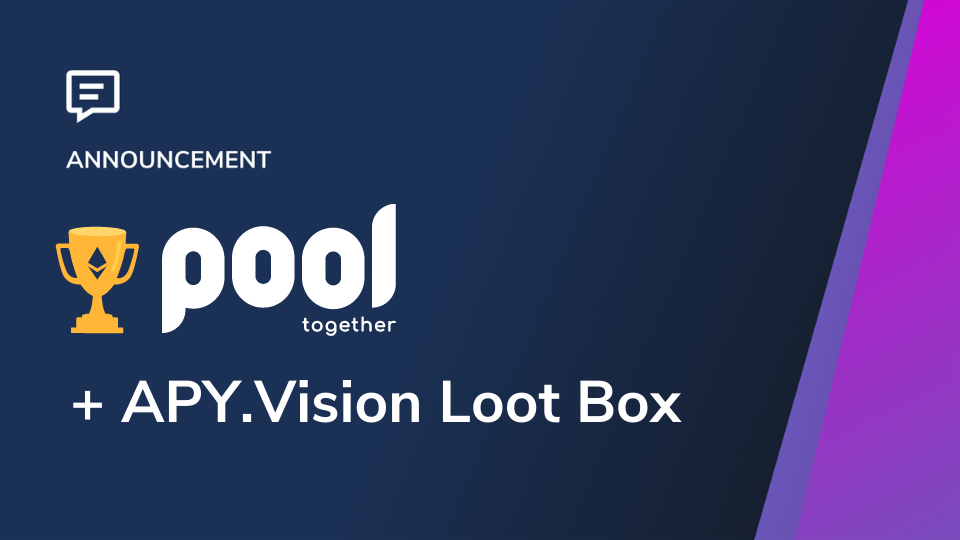 This post goes over the APY.Vision/Pooltogether Loot Box program for VISION/ETH LP's who want to earn rewards while providing liquidity in Uniswap.
There is a new initiative from PoolTogether to create "community pools" that allow anyone to create a no-loss lottery using the PoolTogether technology. We think this is a wonderful way to give back to our community and allow them a chance to win some rewards for staking their VISION/ETH Uniswap LP tokens.
APY.Vision Stake Prize Pool
The Stake Prize Pool is a prize pool that uses an ERC-20 compatible token as the underlying asset. User's can stake their tokens to become eligible for whatever prize is defined as the prize strategy for that pool. We have decided to use this feature at APY.Vision to give our VISION/ETH LP's a chance to earn a different monthly reward staking their LP tokens.
April's Loot Box prize
This month you can win 2.88 WARP tokens from our friends over at Warp Finance, read more about Warp and the ways you can stake LP tokens to borrow funds.
In March the prize was MARK tokens and there were 3 winners who received about $700 worth of MARK tokens each.
APY.Vision does not give investment advice and always insists that you do your own research. Read our full Legal Disclaimer.
Check out APY.Vision!
APY.Vision is an advanced analytics tool for liquidity pool providers and yield farmers. If you're using any DEXs, AMMs, or liquidity pools this is the tool you will need to easily track the ROI of your liquidity provider and yield farming activities. Try it now!
More Educational Content