Partner Spotlight: Pickle Finance NFT Giveaway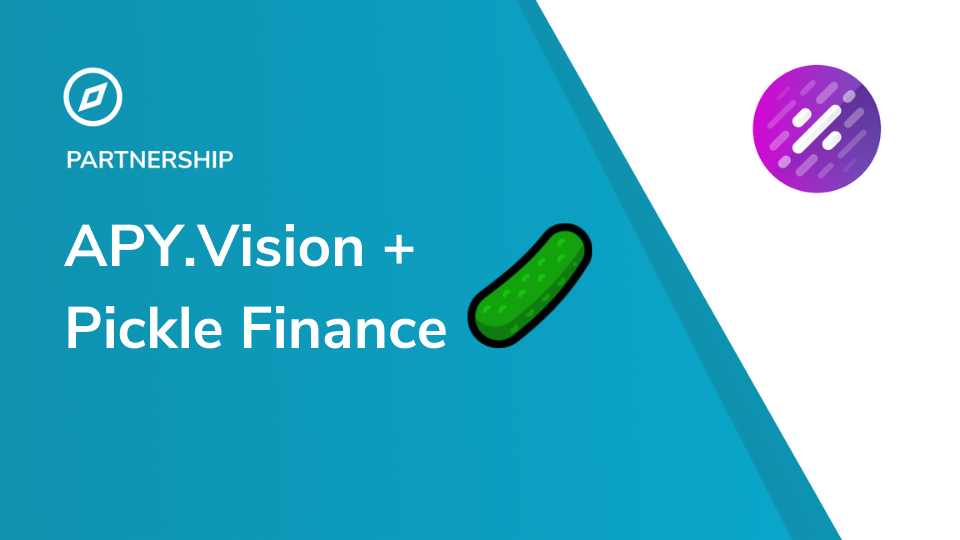 This is a Partner Spotlights article – a series highlighting our partners in the DeFi space.
About Pickle Finance
Yield farming is hard. When you try to chase the best yield farms, it is easy to see the costs start to pile up. Gas costs will add up quickly if you have to keep moving funds around on Ethereum and hurts the feasibility of pursuing certain investments unless you have large sums of money. The solution is to pool funds with other users to cut down those fixed costs and save everyone money.
The safety of farming projects is another huge concern. There are many projects offering high returns, but it's tough to know if they're sustainable or if they're projects you can trust. Pickle Finance makes it easy for you to earn great compounding yields on your deposits.
Key components of the PICKLE product suite:
PICKLE Token Emission
The PICKLE emission schedule features a gradual decrease in PICKLE minting up until the end of the first year, after which a static amount will be minted in perpetuity. Starting from Week 6 and ending at the end of Week 52, the number of PICKLEs minted will decline each week by 10% from the previous week. After Week 52, PICKLEs minted will remain static each week (at approx. 329 PICKLEs per week), capping the overall annualized inflation rate at 1.29% and further decreasing over time.
How does Pickle Finance do governance?
The Pickle Finance community and PICKLE/ETH liquidity providers wield power to shape the future of the protocol.
What are the risks?
Yield farming is made possible with smart contracts that automate what people used to do in traditional finance. As with any staking or farming program, you have to consider the risks of smart contracts failing or the token dropping in value significantly. To help protect from the risk of hacks, Pickle Finance has had a security audit on their smart contracts performed by MixBytes.
Smart contact risk is a huge concern because a malicious hacker can use bugs in the smart contract code to drain the contract and cause huge losses of funds. Only invest what you can afford to lose and do your own due diligence. As with any financial investment, there is also a chance that the price of PICKLE goes to zero.
It is also important to remember that gas fees can be a big concern when entering and exiting positions. If the gas price spikes, it may make it unprofitable to unstake or withdraw your L.P. assets.
APY.Vision Pro version NFT Giveaway
As part of this announcement, we have teamed up with Pickle to give away some limited edition NFTs that unlock Pro subscriptions to APY.Vision!

How do I enter?
You must provide liquidity to the PICKLE/ETH Uniswap V2 Pools and then stake that in the farm.
What does holding the NFT give me?
By holding the PICKLExAPY NFT, the holder will have access to the APY.Vision professional edition for three months. The PRO edition unlocks additional analytics and insights for liquidity providers.
How many winners will be there?
There will be five winners each week for the next three weeks, picked randomly from the eligible pool above.
How will the winners be contacted?
They'll be announced on Twitter and Discord. We'll also disclose more information on how to redeem these NFTs when the winners are announced.
How long will the access to the PRO membership be good for?
The winners of this NFT will unlock PRO membership until May 31, 2021.
APY.Vision does not give investment advice and always insists that you do your own research. Read our full Legal Disclaimer.
Check out APY.Vision!
APY.Vision is an advanced analytics tool for liquidity pool providers and yield farmers. If you're using any DEXs, AMMs, or liquidity pools, this is the tool you will need to easily track the ROI of your liquidity provider and yield farming activities. Try it now!
More Educational Content