Introducing Farming Rewards History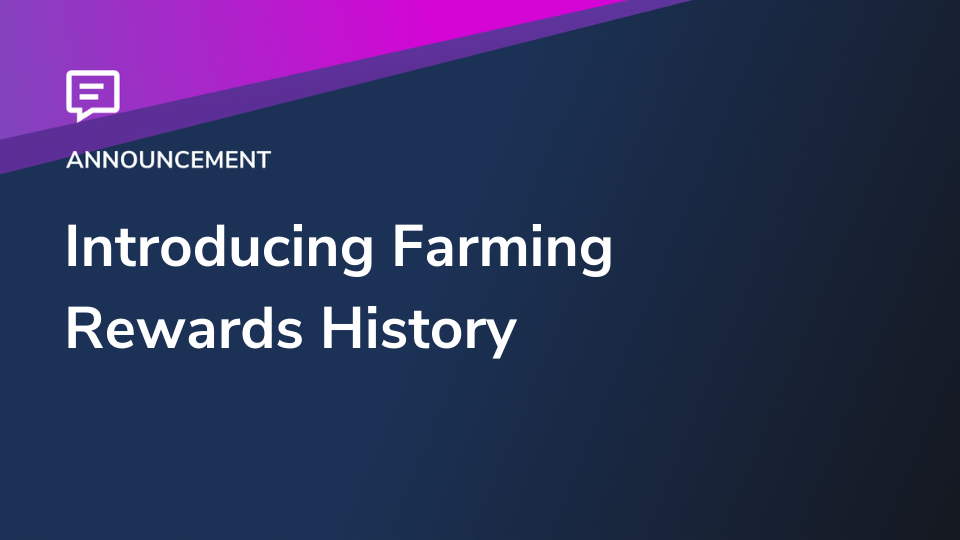 Introduction
Here at APY Vision, we are obsessed with surfacing the best analytics for our Liquidity Providers. We have heard over and over again regarding including farming rewards as part of the whole picture when calculating APY.
And yes we have listened! Without further ado, we present to you, Farming Rewards!
Farming Reward Feature
For the past 4 weeks, our team has been hard at work building the most advanced and sophisticated feature yet — collecting farming rewards. And we want to say we wouldn't have done it without you, our community!
We built a system where our users can help classify farming transactions. All in all, we received over 2000 classification transactions and from that, we managed to index over 980 farming rewards pools!
As this is a never ending task and there could be many different contracts in the wild, we had to build a system from scratch to allow anyone to mark transactions as reward transactions. We will also be introducing our APY Vision Ambassador Program which will let our community members classify and approve our farming reward transactions and more — stay tuned for details!
We can try and automate a few things, but we can never really be certain until you look it over, so we designed our system with that in mind (read more below).
$VISION Tokens Airdrop
If you have helped us with classifying transactions throughout this process, THANK YOU! We are so grateful for the community support while we were working on this feature and we ended up having 140 eligible token holders who have helped us classify transactions. If you think we missed you, please drop us a line on Discord! Please note you had to hold 100 VISION tokens at the time of the airdrop, which is around the block of 11840243.
Each user on this list will receive 100 $VISION tokens!
https://gist.github.com/apyvision/03e445730b160df115bcdeed7f9ac355
How to Read Your Rewards
On the left hand side, you are shown the farming capital you have provided currently. In addition, we should you the collected rewards.
How to Include Farming Transactions
Since we don't know all the contracts in existence, we give you an option to mark individual transactions as farming rewards transactions. On the transaction history, you can view the reward that we missed and then click on the "Add as reward" to have the transaction added as a reward.
How to Activate the Farming Rewards
If you are a member (free or PRO) before Feb 10, 2021, then you are already indexed! You just need to wait for the sync to happen. When this does, you will see the farming rewards on your current and exited pools. For members who are new, we will be indexing all your transaction history and that should be done within the first 24 hours of you searched on our site.
What's Coming Next
This is just a V1 of the farming rewards analytics — we're not done yet! For the next iteration, we will be focusing on including this information in your total net market gains calculation. In addition, we will be adding a daily summary for our users, and the pending + collected rewards will be in the summary email.
We are testing out the kinks in the system for this current version, so please let us know if you run into issues. In the coming weeks, we will be supporting a second iteration of this.
To summarize, the future release we will be adding the following:
Adding pending rewards (rewards that have not been collected yet)
Adding pending+total rewards value to the Net Market Gains
Sending a daily summary email to include your pool health and farming rewards
Thank you again, LPs, for your support and if you have any questions, please don't hesitate to reach out to us on Discord: https://discord.gg/ePfGAYbqUq
Team APY Vision
APY.Vision does not give investment advice and always insists that you do your own research. Read our full Legal Disclaimer.
APY.Vision is an advanced analytics tool for liquidity pool providers and yield farmers. If you're using any DEXs, AMMs, or liquidity pools this is the tool you will need to easily track the ROI of your liquidity provider and yield farming activities. Try it now!
More Educational Content