Introducing Community-Driven Farming Rewards Calculations + Airdrop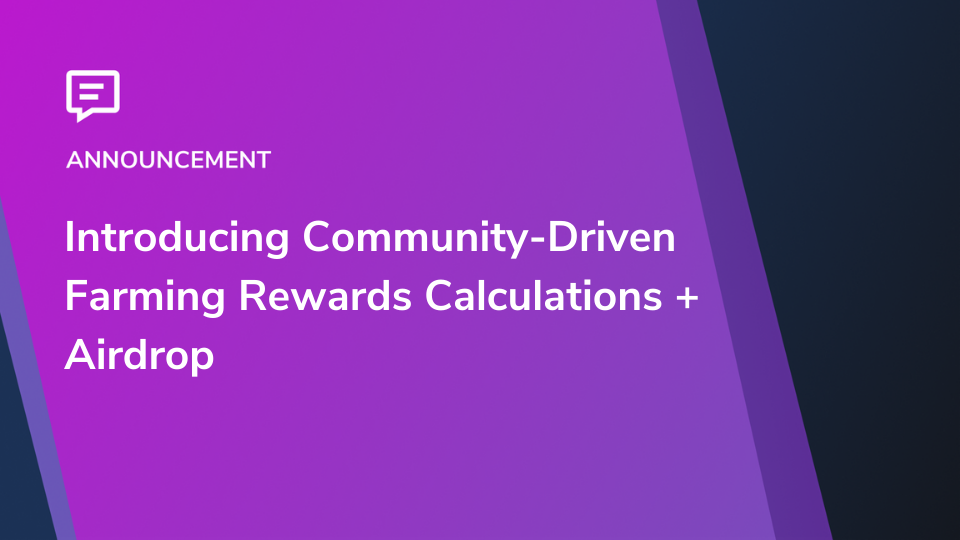 Introduction
Here at APY.vision, our goal is to be the most complete dashboard for Liquidity Providers (LPs). This profession was created as a result of innovative technologies like AMMs (Automated Market Makers). Even though the space is relatively new, we believe that providing liquidity is here to stay. We want to ensure that LPs have the best analytics tools out there to ensure they are successful in their journey to financial freedom.
Background
The term Farming Rewards came about due to liquidity providers using their tokens to provide liquidity for new protocols. In exchange for their risk for doing so, they earn the protocol's reward tokens.
We would like to announce that we will start to support total returns, including farming token rewards on APY.vision — but there's a catch — we need your help!
Since there isn't a standard for farming contracts (many of them are duplicated, and there isn't a specification for them), it is often a cat and mouse game supporting new protocols. To ensure we have a complete picture of all of the farming contracts, we will be relying on you, the community.
We will be adding UI in our app to allow you to pick out the farming rewards that you received from previous transactions, and we save that information for the future. This is important to us for determining what the mining rewards are, thus help the community as a whole to identify the farming rewards. Going forward, whenever we encounter the same type of transaction, we will know to apply this information to the rewards.
What's in it For Me?
The aggregation of this information will be ever more vital as we expand our service to enterprise clients (think tax software that needs to track profits/losses from farming), and we will be able to provide them with the most accurate data. The ongoing revenues from enterprise deals will go back into buying $VISION tokens and burning them (see more about this in our token-economics post). We hope this will create a positive feedback loop for the community by aligning incentives.
Help Classify Farming Rewards and Earn $VISION
We recognize that classifying transactions require joint effort for all our community members, so to achieve this and to further provide incentives for early members to help with this, we will be allocating part of the VISION tokens from the foundation to recognize members who help with this task. The top 250 members who classify the most correct transactions will each receive 100 $VISION tokens via an airdrop at the end of 30 days. All transactions are subject to spot checks to ensure the integrity of the data being submitted is correct. If we see a misclassified transaction, you could be disqualified for the airdrop, so please double check your submission before continuing! To help you with classifying the transactions, we have included links to the original transaction on Etherscan.
To reduce the potential for abuse (ie. people doing this to get free tokens and degrading the quality of the classification), you will need to be signed in as a PRO member and:
hold at least 100 $VISION tokens, or
hold at least 1 ETH/VISION LP token or
own a subscription NFT to participate in the airdrop.
If you're on the fence about being a Pro member, now is the time to get at least 100 $VISION tokens and help out the community!
How to Classify a Transaction (3 Easy Steps)
1. To classify a farming reward transaction, you should see an exclamation mark on the More Info link on a pool you're in which you have sent LP tokens away previously.
2. Next, click on the Transactions Tab to look at the previous farming rewards:
3. You will be shown buttons if we see that tokens were sent from a contract to your address. Your job now is to identify it is indeed a farming transaction. Select the farming rewards tokens you received in the dropdown after verifying the original transaction. Do NOT click Submit unless you are sure you received the farming reward token in the transaction!
Important Notes
Please be aware that currently we might show an exclamation mark for you to check the transactions even though the transactions might not have any farming rewards. You can select the option "I didn't get any farming tokens in this transaction"
If you come back to the transactions tab later on, you might see the option to classify the transaction again. Please ignore this as we have already included your response and we are waiting to verify it.
We won't include your farming tokens calculation right away — we need to verify the classification first. The farming reward inclusion will happen in a few weeks after the launch of this feature.
Questions / Feedback
If you have any questions, please don't hesitate to ping us on Discord (https://discord.gg/ePfGAYbqUq) or click on the Report Problem button.
Check out APY.Vision!
APY.Vision is an advanced analytics tool for liquidity pool providers and yield farmers. If you're using any DEXs, AMMs, or liquidity pools this is the tool you will need to easily track the ROI of your liquidity provider and yield farming activities. Try it now!
APY.Vision does not give investment advice and always insists that you do your own research. Read our full Legal Disclaimer.
More Educational Content