Frax + APY.Vision NFT drop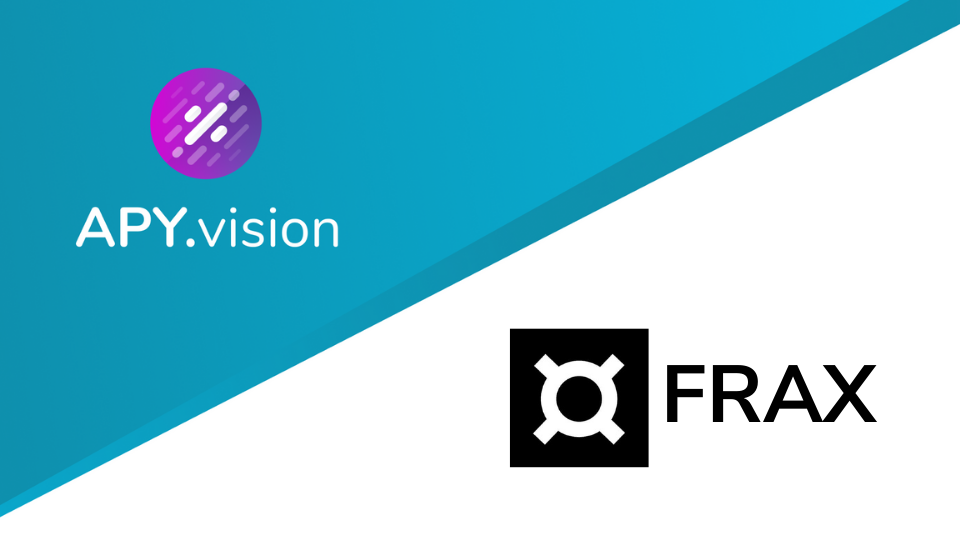 Frax Finance and APY.Vision have come together to produce three ultra rare custom artwork Frax NFT's to be placed for auction on Rarible. As many of the users in the Frax community can attest to, APY.Vision provides the best tools and analytics for liquidity providers in the crypto space. You can show your support for both projects by placing a bid on these one-of-a-kind items!
Details on Frax + APY.Vision NFT drop

The FRAX<>APYVISION NFT's are unique (1/1) items with custom designed artwork that has been created specifically for this rare NFT series. The NFT will grant access for six months (subscription good until 10/1/21) to the APY.Vision Pro Membership (valued at 1.8 ETH on Rarible). The NFT will also be given special placement and acknowledgement by the Frax team in their app and possibly in other ways in the future (TBD).
Bidding will end Wednesday, April 14th 11:59:59 PM GMT
Here are the Rarible links to bid on these collectable and useful NFT's: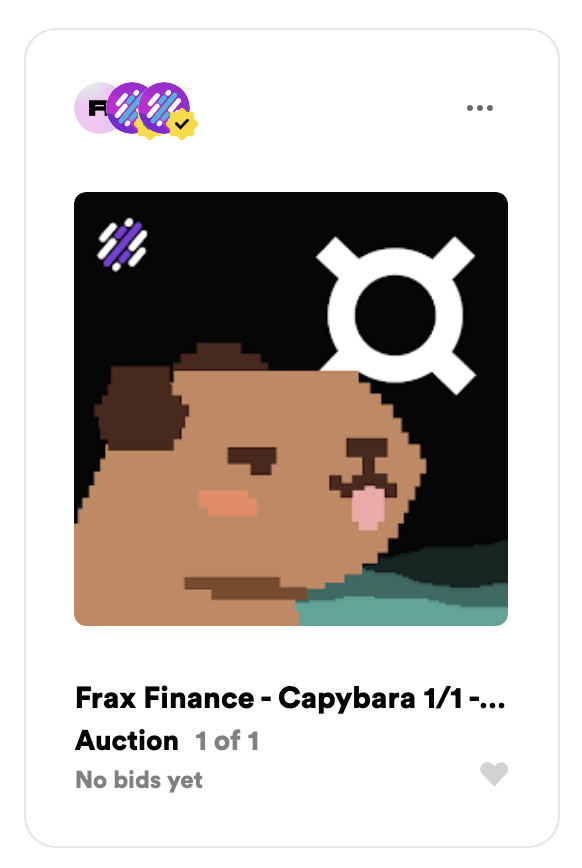 The art features the mascot for Frax, the capybara. This is a one of a kind limited edition NFT. Mintage: 1/1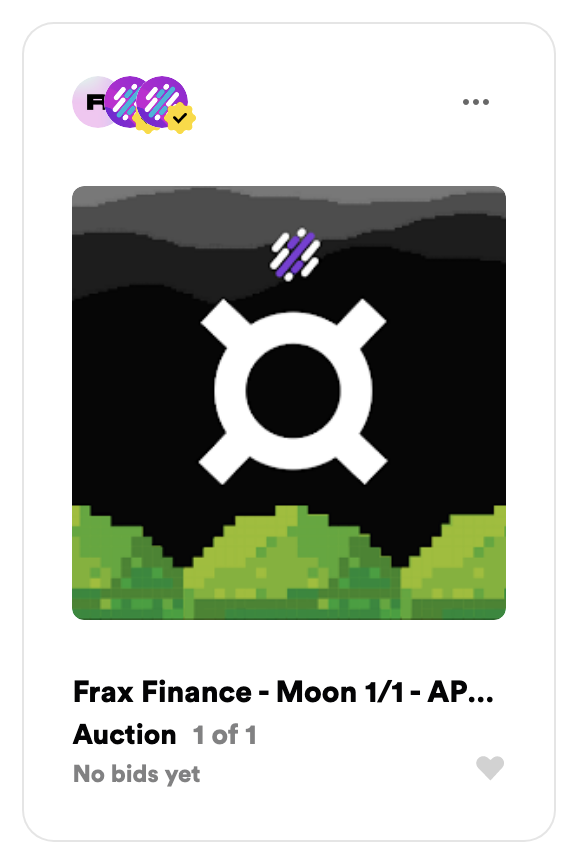 The art features Frax as the moon. This is a one of a kind limited edition NFT. Mintage: 1/1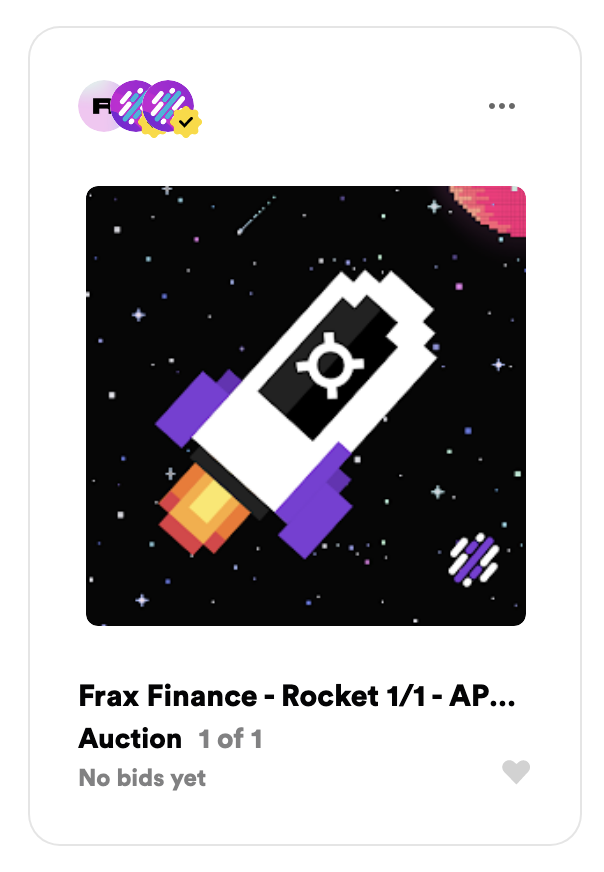 The art features the rocket ship of Frax. This is a one of a kind limited edition NFT. Mintage: 1/1
Bidding will be open for 10 days!
About Frax Finance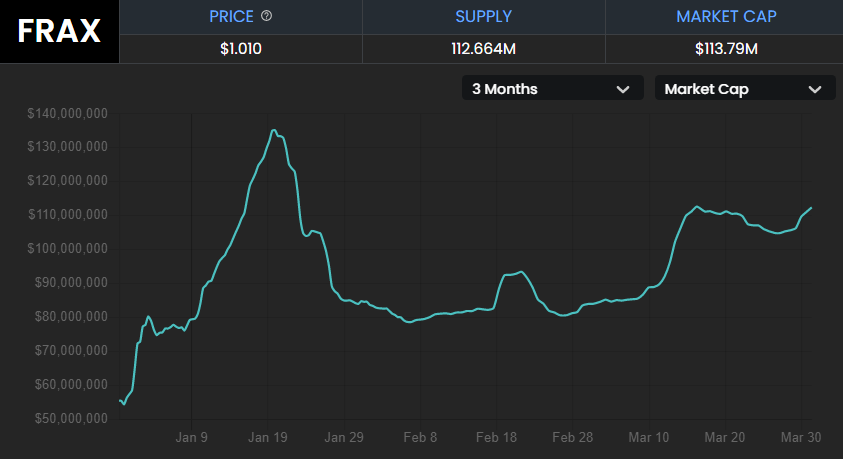 Frax is the first fractional-algorithmic stablecoin protocol. Frax is open-source, permissionless, and entirely on-chain – currently implemented on Ethereum (with possible cross chain implementations in the future). The end goal of the Frax protocol is to provide a highly scalable, decentralized, algorithmic money in place of fixed-supply digital assets like BTC.
Since their launch, FRAX has managed to maintain over $100 million in market capitalization while providing healthy yields (40-100%) to locked stakers in the various FXS incentive pools on Uniswap, Sushiswap and Curve.
About APY.Vision

APY.Vision is an all-in-one liquidity pool analytics and yield farming rewards tracking tool that lets you manage your liquidity pools and track yield farming rewards with one easy dashboard. Because liquidity pools are complex and have many variables that dictate profit or loss, it is essential to have tools to understand what is happening with your various positions. APY.Vision also will assist you in searching for new pools to invest in and will also track your profit and loss.
APY.Vision does not give investment advice and always insists that you do your own research. Read our full Legal Disclaimer.
Check out APY.Vision!
APY.Vision is an advanced analytics tool for liquidity pool providers and yield farmers. If you're using any DEXs, AMMs, or liquidity pools this is the tool you will need to easily track the ROI of your liquidity provider and yield farming activities. Try it now!
More Educational Content