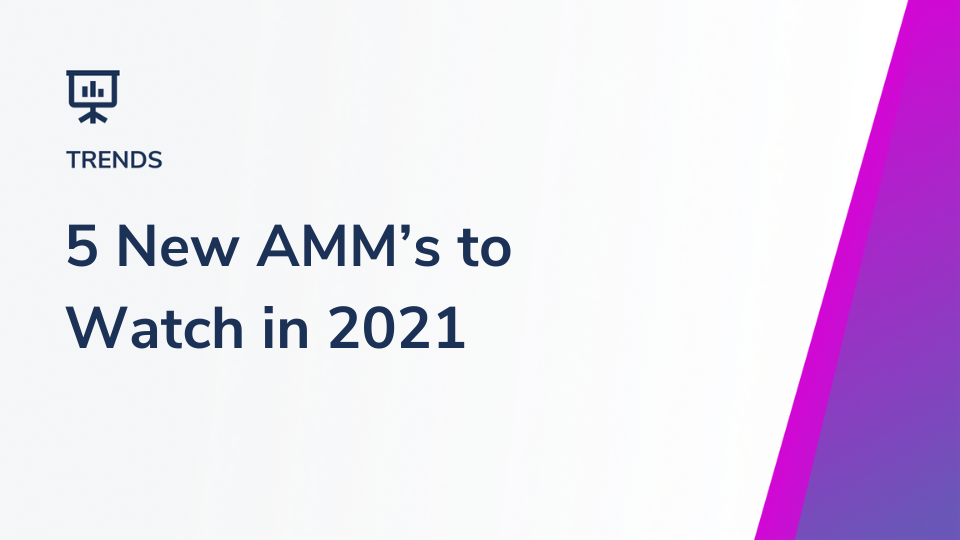 2021 is going to be a big year for AMM technology. We see a lot of new DeFi projects here at APY.Vision and wanted to take an opportunity to highlight some of the AMM's we think are going to have a big year in 2021. We recommend looking at them to see liquidity mining programs that might be offered or to get a glimpse of what is coming with Layer 2 projects.
AMM 2021 – Value Liquid — Value DeFi
Value DeFi is a Decentralized Finance platform that aims to bring fairness, true value, and innovation to Decentralized Finance. Value operates on four core tenets: increase accessibility to yield farming; provide next-generation on-chain voting for governance; reward stakeholders with flexible, optimized, and profitable vault strategies and aggregation services; and protect community funds through the integration of an insurance treasury.
Value DeFi embraces an all-in-one mentality with an ecosystem built upon a diverse range of products. Their flagship product — Value Liquid — is an automated liquidity marketplace that serves as a decentralized exchange and yield-farming platform. Value Liquid combines Uniswap's elegant UI and Balancer's advanced contracts to produce a blend of DeFi technology. The team believes in total transparency and all swap fees and slippage are included in the estimated tokens received, with no hidden costs except gas fees.
Value Liquid recently received a massive upgrade; Farms-as-a-service. FaaS technology allows any project to easily create yield-farming pools to safely distribute their tokens. The entire platform is decentralized and designed to be totally self-served. Any project can create a pool in minutes.
New or Upcoming features
Introducing vTokens, cross-chain synthetic algorithm tokens.
Decentralized Secured Loan Marketplace. Collateralize LPs, Borrow vUSD
Value DeFi goes Cross-chain onto Polkadot, with more chains coming soon.
Core Upgrade for Value Liquid to use an external router instead of Balancer's internal proxy.
Estimated savings of up to 50% cheaper gas price on Value Liquid when using CHI gas token!
Automatically uses liquidity from Uniswap or Sushiswap when unavailable or insufficient amounts on Value Liquid to minimize slippage.
AMM 2021 –QuickSwap — MATIC L2
QuickSwap is a Uniswap fork that is a next-gen Layer 2 DEX powered by Matic Network that lets you trade at lightning-fast speeds with close-to-zero gas fees. They currently have about $3 million in liquidity after launching in Q4 2020.
Incorporating a community-focused governance structure and a fair token distribution model, QuickSwap is empowering traders whilst removing the costly barriers to entry to DEXs for the general crypto user. Liquidity mining and yield farming opportunities will incentivize the growth of a strong liquidity provider ecosystem.
2021 is going to be an exciting year for Quickswap, as they have recently implemented a custom Ethereum|Matic bridge that moves Aave's aTokens from Ethereum to Matic Network. aTokens can be transferred from Ethereum to Matic Network using the Aavegotchi bridge website which allows you to continue to earn interest with tokens on Aave while using the MATIC network.
Features
Permissionless Listings — Any user can list any ERC20 token on QuickSwap by providing liquidity for the trading pair.
Layer 2 Transactions — Transactions on QuickSwap are powered by Matic Network, a Plasma-based Layer 2 Ethereum scalability solution. This means asset swaps can be completed within ~2 seconds at a tiny fraction of the gas cost on the Ethereum mainchain.
Non-Custodial Trading — Users can trade on QuickSwap directly from their personal wallet (including MetaMask, Coinbase Wallet, and various mobile wallets via WalletConnect)
Liquidity Mining — By providing liquidity to incentivized QuickSwap trading pools, users are rewarded with QUICK tokens.
Yield Farming — There is a trading fee of 0.3% for every transaction on QuickSwap.
Community Governance — QuickSwap will be community-governed. QUICK token holders will have ownership of the governance process of QuickSwap.
AMM 2021 – PanCakeSwap — Binance Smart Chain
PancakeSwap is a decentralized exchange running on Binance Smart Chain, with lots of other features that let you earn and win tokens. The exchange is an AMM that allows tokens to be exchanged on the Binance Smart Chain. You can earn CAKE with yield farms, earn CAKE with Staking, and earn tokens with Syrup pools and win a prize with the PancakeSwap Lottery.
New or Upcoming Features –
Trade Google, Amazon, Netflix or Tesla all on BSC via Mirror protocol's mAssets
$120,000+ USD prize pot for most recent lottery drawing
BEPSwap — Binance Chain with THORChain technology
BEPSwap is the first public demonstration of THORChain technology and is Binance Chain's first decentralised finance application allowing BEP2 token holders to swap their assets, or stake them to provide liquidity to the market. BEPSwap is powered by a Cosmos-SDK statechain coming to consensus about events observed on Binance Chain while THORChain validators maintain security of pooled assets using threshold signatures.
Features
Token Users — Instantly swap assets in your wallet, or swap and send them to a friend at market prices.
Token Holders -Stake BNB and BEP2 tokens in liquidity pools and earn commissions on every trade.
Traders -Monitor pool prices via API or the interface and earn by trading the pools to correct prices.
Token Projects -Connect to BEPSwap to swap tokens for your DApp and stake your treasury for deep liquidity.
Loopring has been one of the first AMM's to make the transition to Layer 2, increasing throughput and decreasing network costs. In December they launched Loopring Protocol v3.6 and Loopring Exchange v2. On January 17th of this year they passed $100 Million in TVL, a huge milestone for any project!
Second Round of LRC Liquidity Mining Rewards
The second round of incentives launched at January 25th:
Features
Secure -Loopring is an open-sourced, audited, and non-custodial exchange protocol, which means nobody in the Loopring ecosystem needs to trust others. Cryptoassets are always under users' own control, with 100% Ethereum-level security guarantees.
High Throughput -Loopring powers highly scalable decentralized exchanges by batch-processing thousands of requests off-chain, with verifiably correct execution via ZKPs. The performance of underlying blockchains is no longer the bottleneck.
Low Cost -Loopring performs most operations, including order-matching and trade settlement, off the Ethereum blockchain. Such a design dramatically reduces gas consumption and thus overall settlement cost to only fractions of a cent.
APY.Vision does not give investment advice and always insists that you do your own research. Read our full Legal Disclaimer.
Check out APY.Vision!
APY.Vision is an advanced analytics tool for liquidity pool providers and yield farmers. If you're using any DEXs, AMMs, or liquidity pools this is the tool you will need to easily track the ROI of your liquidity provider and yield farming activities. Try it now!
More Educational Content