Index Coop and APY.Vision NFT Giveaway for MVI launch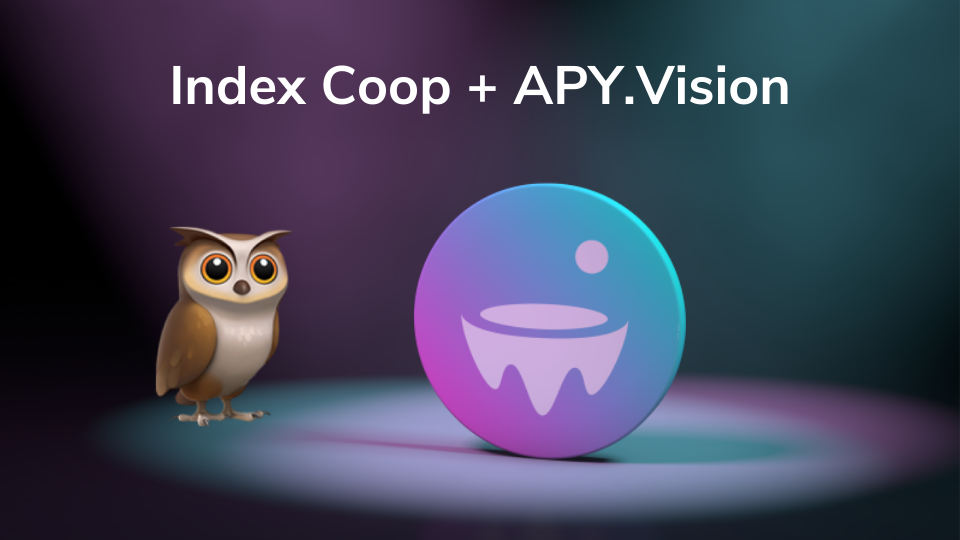 Index Coop and APY.Vision have teamed up to create another rare NFT collectable! This NFT features custom Index themed artwork and is a limited edition! The NFT grants you Pro access to the APY.Vision DeFi analytics dashboard until 7/31/2021. You can win by entering at least $10,000 into the MVI/ETH Uniswap V2 pool in the first 24 hours it is live. 
TLDR – Index + APY.Vision NFT
Giveaway — Provide over $10,000 liquidity to the MVI/ETH Uniswap V2 liquidity pool in the first 24 hours to automatically be entered in a chance to win!
APY.vision Pro — APY.vision Pro NFT allows you to get deeper insights into your LP positions with real time prices and unlimited portfolio size tracking 
Winners — 10 Winners randomly selected based on the selection criteria
What is INDEX Coop
Index Coop creates and maintains the world's best fully collateralized crypto index product, the DPI index. It is a Decentralized and Autonomous Asset Manager governed, maintained, and upgraded by INDEX token holders. Their products are built on Set Protocol's battle-tested V2 infrastructure, and product methodologies are sourced from industry experts like DeFi Pulse.
New products from the Index Coop –
CoinShares Crypto Gold Index
ETH 2x Flexible Leverage Index
Metaverse Index
What is APY.Vision
APY.Vision is an all-in-one liquidity pool analytics and yield farming rewards tracking tool that lets you manage your liquidity pools and track yield farming rewards with one easy dashboard. Because liquidity pools are complex and have many variables that dictate profit or loss, it is essential to have tools to understand what is happening with your various positions. APY.Vision also will assist you in searching for new pools to invest in and will also track your profit and loss.
Contest Details
Supply over $10K liquidity to the new MVI/ETH pool on the first day —You can win by entering the MVI/ETH pool with over $10,000 of liquidity in the first 24 hours . The lucky winners will receive an INDEXxAPY NFT that allows access to the PRO edition of APY.vision until 7/31/2021. A total of 10 NFTs will be given to the winners.
FAQ
What does holding the NFT give me?
By holding the INDEXxAPY NFT, the holder will have access to the APY.vision professional edition. The PRO edition unlocks additional analytics and insights for liquidity providers.
How many winners will be there?
There will be 10 winners randomly selected from the MVI/ETH Uniswap liquidity pool if they have deposited $10,000 in the first 24 hours of the pool being live. Each NFT will unlock access until 7/31/2021 to the PRO edition of APY.vision.
How can I learn more about APY.vision?
You can learn all about APY.vision at https://apy.vision.
How do I learn more about Index COOP and staking in the farm contract?
Please go to https://www.indexcoop.com to learn more about Index Coop.