yAxis and APY.Vision NFT Giveaway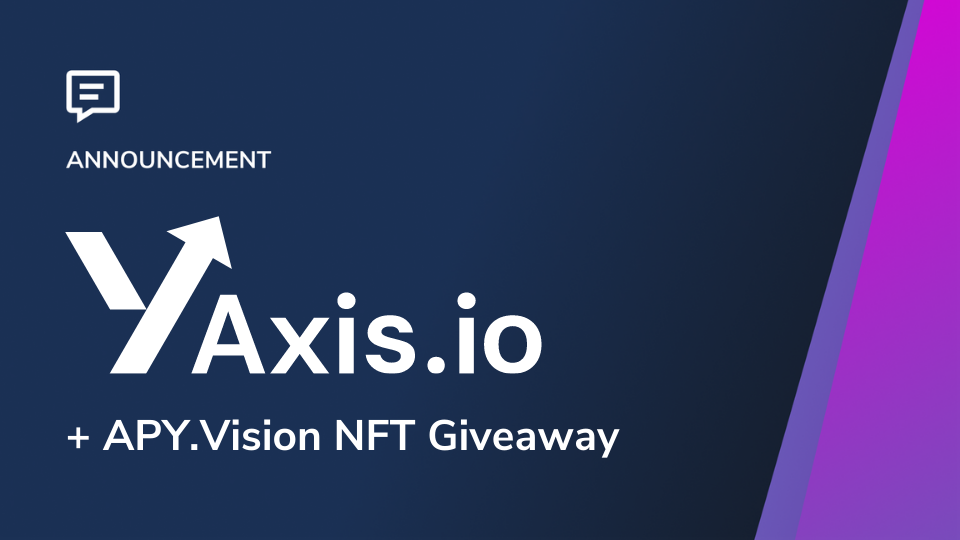 To celebrate the launch of yAxis' new FRAX, Tricrypto2 and cvxETH vaults on Ethereum, and the upcoming launch of the protocol on the Avalanche chain, we have teamed up to giveaway 30 custom artwork NFTs that grant Pro access to the APY.Vision platform. Winners will be selected from the YAXIS/ETH pool, more details below.
About yAxis
Ninety five percent of digital assets currently sit idle, and do not leverage the many facets of DeFi, due to perceived risks and complexity. It is yAxis' mission to change this perception, by making DeFi easy, accessible and transparent for all digital asset holders.


yAxis is a DAO-directed, multi-strategy, multi-asset, yield aggregator.

The recently released v3 vaults are the core product and innovation that yAxis is bringing to DeFi,with their vaults offering secure, reliable and diverse yield generation for both retail and institutional capital.
With the launch of the v3 vaults, the yAxis team fundamentally changed the way they generate yield. Key components include the introduction of DAO-directed mechanisms that personalise APR's and "BOOST" YAXIS rewards by up to 2.5x and the gamification of YAXIS Reward distribution through locking of YAXIS into veYAXIS (voting escrow YAXIS).

Vault security and protocol audits.

"The safety of our users' funds is paramount," said yAxis' MrMister.

In keeping with their stated security ethos, the team employed a staggered-multifaceted security audit approach for their V3 vaults, in which they combined a community-driven competitive smart contract style of audit run by (Code 4rena C4) with that of a more conventional audit from top tier auditors Haechi.

Check out the yAxis security blog to find out more about the efforts involving securing the platform.
C4's approach to audits is ideal for highly specialized security researchers who are incentivized based on the number of bugs found and the risk of the bugs found. Many of C4's researchers focus exclusively on their particular areas of expertise, for example gas optimization, and are not laboured with having to review an entire code base.
In addition, yAxis staggered the timing of their audits which gave the yAxis development team an opportunity to address issues raised by C4 before Haechi results were released, essentially creating an audit upon an audit.

Tracking your yAxis LP positions on APY.Vision
APY.Vision gives LP's the insights they need to make intelligent decisions when adding and withdrawing liquidity. Everyone can use the free version of the site to track their portfolios and keep track of impermanent loss and farming rewards generated by their liquidity pool positions. The NFT we are giving away will unlock premium Pro features that normally have to be accessed by purchasing the VISION token.
Raffle Details
To be eligible to win the NFT pictured above, provide liquidity to the YAXIS/ETH pool on yAxis between the dates Feb 14 and Feb 28. Users who already have funds in the vaults are already eligible. The lucky winners will receive an YAXISxAPY NFT that allows access to the PRO edition of APY.vision until 01 June 2022. A total of 30 NFTs will be given to the winners. You can see the pools on yAxis here which all yAxis users can track with the free version of APY.Vision.
Eligible pools:
FAQ
What does holding the NFT give me?
By holding the YAXISxAPY NFT, the holder will have access to the APY.vision professional edition. The PRO edition unlocks additional analytics and insights for liquidity providers.
How many winners will be there?
There will be 30 winners randomly selected from the list of wallet addresses providing liquidity to the listed pools above. 15 winners will be selected per week. Each NFT will unlock access until 01 June 2022 to the PRO edition of APY.vision.
How can I learn more about APY.vision?
You can learn all about APY.vision at https://apy.vision.