Introducing ETH/VISION Liquidity Providing Incentive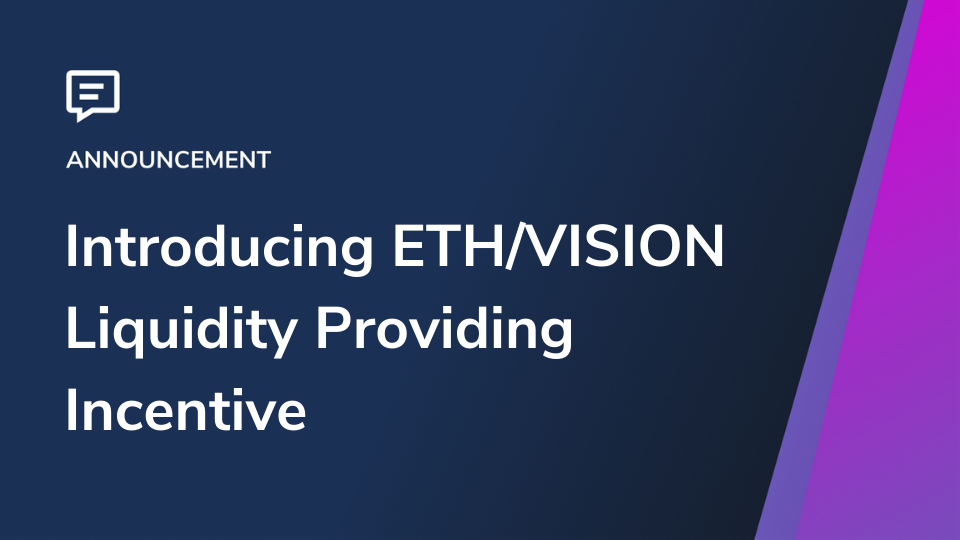 Introduction
Due to the recent appreciation of the underlying tokens, some of our users have been asking for alternative ways to get extra tracking without having to acquire more VISION tokens.
Here at APY.Vision, we always try to take the best interests of our users into account, so we listened and have now launched a liquidity providing bonus!
We now support up to 5x bonus when you provide liquidity
To activate our pro features, you only need to hold 100 VISION membership tokens per $10,000 of USD tracked in your wallet(s). This ensures that people who are not big portfolio holders can benefit by holding just a small amount of VISION tokens in their wallet. As you provide more liquidity, you can add more VISION tokens to your wallet to activate the pro features — it's that simple!
However, if you want to maximize the amount that can be tracked, you can now provide liquidity to our Uniswap ETH/VISION pool and get up to 5x bonus free tracking! Each 1 LP token held will give you tracking for up to $20,000 USD!
Please note that you can mix and match the two options. For example, if you hold 100 VISION tokens and 1 ETH/VISION LP token, then you are eligible to track $30,000 USD worth of current portfolio. Please keep in mind that this requirement is for the total in your current liquidity pools, so please plan ahead when acquiring tokens.
As long as you hold VISION tokens or the ETH/VISION LP tokens in your wallet, you will unlock PRO access for life!
To Provide Liquidity:
https://app.uniswap.org/#/add/ETH/0xf406f7a9046793267bc276908778b29563323996
ETH/VISION Uniswap Pool:
https://uniswap.info/pair/0xa323fc62c71b210e54171887445d7fca569d8430
Check out APY.Vision!
APY.Vision is an advanced analytics tool for liquidity pool providers and yield farmers. If you're using any DEXs, AMMs, or liquidity pools this is the tool you will need to easily track the ROI of your liquidity provider and yield farming activities. Try it now!
APY.Vision does not give investment advice and always insists that you do your own research. Read our full Legal Disclaimer.
More Educational Content