Announcing Nansen Data Integration and APY.vision Seed Investment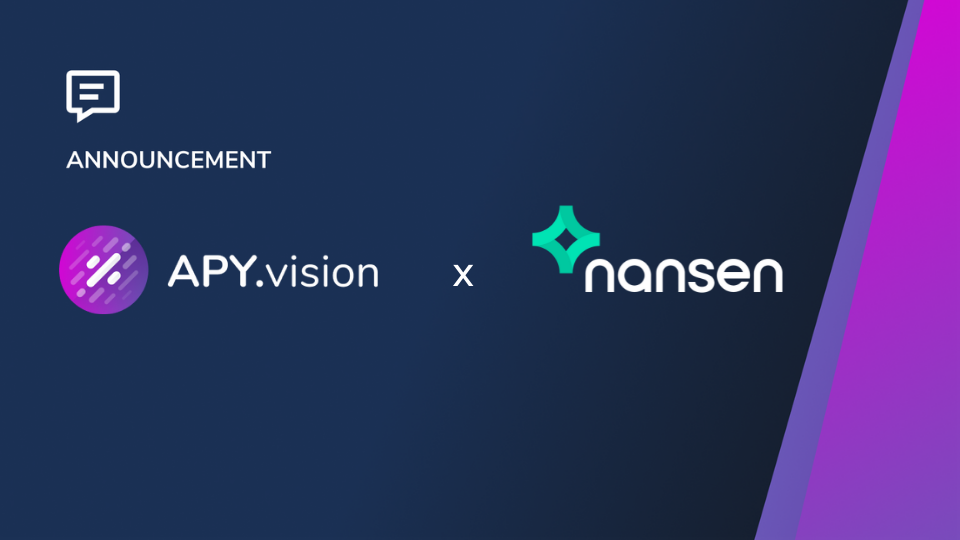 APY.vision Partners with Nansen to Improve DeFi Discovery For Yield Farmers 
GM APY Visionaries!
It is with great excitement that we announce an investment and data integration with leading blockchain analytics platform Nansen.ai! Nansen is a blockchain analytics platform that enriches on-chain data with millions of wallet labels. Crypto investors use Nansen to discover opportunities, perform due diligence and defend their portfolios with real-time dashboards and alerts.
To date, Nansen's platform has been primarily self-built and self-managed, relying mostly on in-house blockchain data. It is an honor that Nansen is making APY.vision's robust data feeds some of the first outside data Nansen will be incorporating into the platform.
Founded in 2020, our team of 11 has attracted over 70,000 LPs as users to the platform, helping DeFi market makers track over $10 billion TVL across 10 different blockchains. Our mission is to help DeFi investors make confident investment decisions by tracking their entire DeFi transaction portfolio history across all chains. Our extreme depth of analysis and incorporation of historical data makes us unique compared to competitor platforms.
Recent updates to the platform have included detailed position data for Uniswap V3 and improvements to the dashboard interface. Upcoming plans include expanding support to non-EVM chains like Solana, supporting more DeFi activity outside of vaults and liquidity pools and tracking historical liquidity farming data like no one else in the field. All of this moves APY.vision towards our goal of on demand complete historical profit and loss detail.
Our roadmap includes plans to move towards a more permissionless system that allows DeFi protocols to easily build integrations to access standardized profit and loss tracking.
In addition to incorporating our DeFi data, we are thrilled to announce that Nansen will also be participating in APY.vision's recently-announced seed round! This will add APY.vision to Nansen's growing list of early-stage Web3 ecosystem investments.
Integration details
Currently, Nansen's platform is ideal for enabling users to analyze blockchain data in order to conduct diligence and defense. With this integration with APY.vision, Nansen will be able to offer users a more dynamic discovery experience as well.
The initial integration will display APY data in the Nansen Hot Contracts home screen. This will enable users to judge not just the popularity of emerging contracts among Smart Money, but also to evaluate the state of trading fees or liquidity mining rewards. This functionality will initially be available for Ethereum contracts, but will scale in the future to other supported chains – including Polygon, Fantom, Arbitrum, and Avalanche.
We would like to thank our community for supporting us on this journey!
Make sure to follow us on Twitter and join our Discord channel to get notified about our upcoming developments and new features.
APY.Vision is an advanced analytics tool for liquidity pool providers and yield farmers. If you're using any DEXs, AMMs, or liquidity pools this is the tool you will need to easily track the ROI of your liquidity provider and yield farming activities. Try it now!