APY.vision Upgrades CSV Export for Vision 2K Members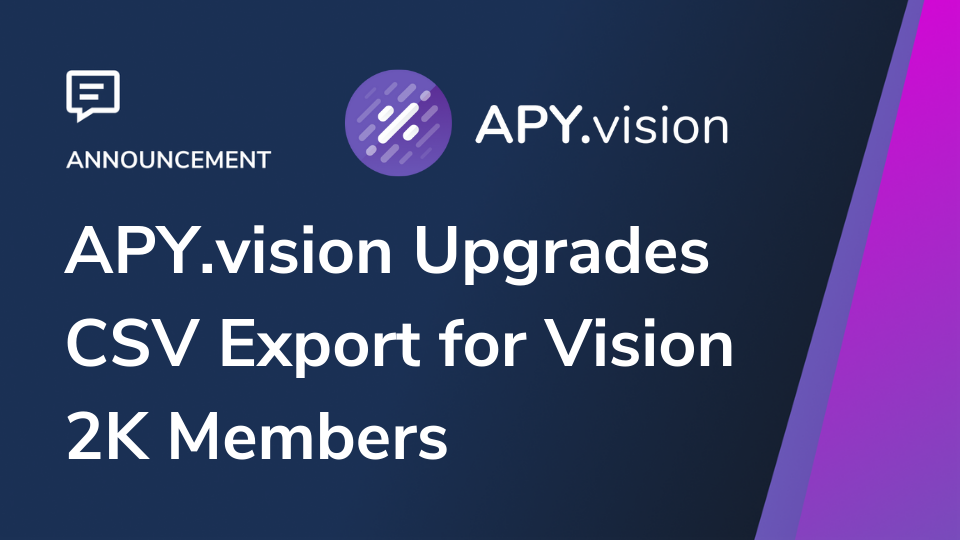 In this article we will be sharing a new CSV export feature that has been added to the APY.vision dashboard interface for our VISION 2K members.
What is a CSV file?
A Comma Separated Values (CSV) file is a plain text file that contains a list of data. These types of files are often used for exchanging data. For example, the APY.vision CSV export can be used by tax preparers to utilize the information presented on our dashboard.
Where can I find the CSV export feature on the dashboard?
The Export link can be found in (4) places in the dashboard section (pictured above) of the app, each exporting a different set of data. In the "Current Pools" and "Uniswap V3 pools" you will be presented with an export option for the pools you are currently using. To see the pools you have exited and to get an option to export that data, you have to click the "View exited pools" link pictured below.
Learn more on Youtube!
The (4) places to find the Export link
Current Pools
Current Pools (Exited)
You can tell if you are in the "Exited Pools" section by checking the red highlighted section pictured below.
The export link highlighted in red above is where to click to export the CSV file for this section.
Uniswap v3 positions
Uniswap v3 positions are listed below the "Current Pools" in a separate section of the dashboard.
Uniswap V3 positions (Exited)
You can tell if you are in the "Exited Pools" section by checking the red highlighted section pictured below.
What does the data exported from the CSV look like?
The column headings of the CSV files will be the same among all (4) of the exports, but depending on the context (ie current vs exited) will have different values populated in the CSV file. Pictured below is a sample of what the exported data can look like.
Here is a link to a sample CSV file to see what an export looks like.
How do I become part of VISION 2K?
There are a few options to join the VISION 2K club, the first being a holder of 2000 VISION tokens or the LP token equivalent (we have a calculator to help you determine how many LP tokens are needed). You can find more details about VISION 2K membership on our "Pro Plans" page looking at the "Lifetime Access Options".
Join our Community!
If you have any questions about the new features on APY.vision, feel free to come join our Discord community and share them! Our community is super helpful and we always like to hear input from our users. If you experience and bugs or notice problems with the website, you can create a ticket via our support system. If there are features you would like to see added to the website, you can make suggestions or vote on previous suggestions here!
APY.Vision does not give investment advice and always insists that you do your own research. Read our full Legal Disclaimer.
Check out APY.Vision!
APY.Vision is an advanced analytics tool for liquidity pool providers and yield farmers. If you're using any DEXs, AMMs, or liquidity pools this is the tool you will need to easily track the ROI of your liquidity provider and yield farming activities. Try it now!
More Educational Content