APY.vision 2022: Tokenomics Revamp, New Revenue Streams, Advanced Features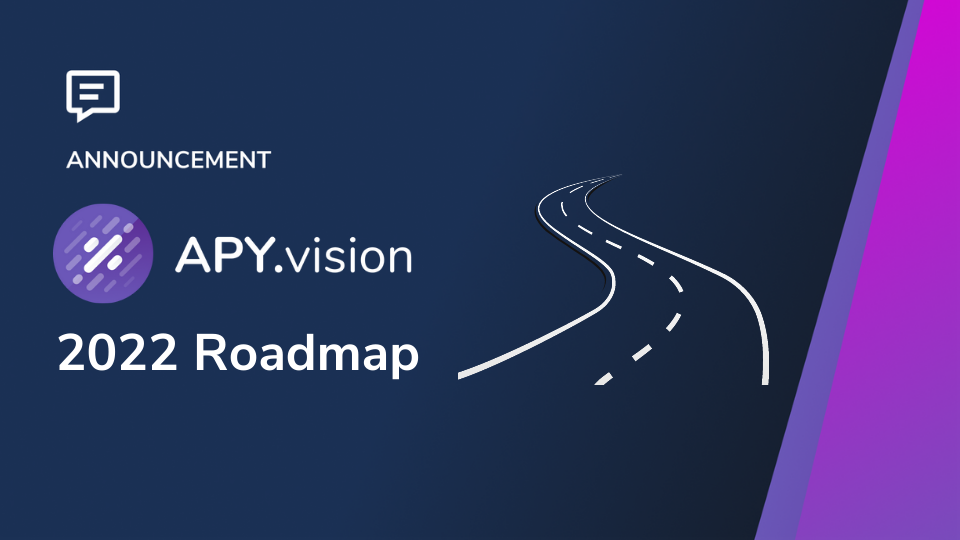 2022 will be a huge year for APY.vision, and we're excited to share our plans with you.
We were heads down building the best analytics tool for liquidity providers, and we're way overdue for a detailed update on our progress and plans.
In 2021, we went from supporting a few AMMs on one chain to integrating 33 AMMs and ten chains with Solana support just around the corner. Altogether, we now help 60,000+ liquidity providers manage a total value of over $7B.
In the summer of last year, we delivered the second version of our platform, revamping the user interface and adding resources to improve loading performance. Since then, we've added new features like surfacing the top-performing pools across/per chain, historical information about collected farming rewards, support for auto compounding vaults, and many more improvements. DeFi always moves very quickly, and we made insane progress in 2021 responding to market demands. We intend to keep up this pace and have big plans for 2022.
In this post, you will learn more about some of the upcoming features and improvement plans that will increase user growth and drive adoption of the PRO features that the VISION token unlocks. Our goal is to ensure we keep building this product no matter what the market conditions will be in the future.
We're excited about what APY.vision will bring to liquidity providers and DeFi users. We bet you will like it too.
Please note that the content of this post is subject to change, depending on internal and external environmental factors.
TL:DR
2022 will see the launch of new features further helping liquidity providers track their portfolio and give them an edge on the market while saving them time
Some of these features help automate liquidity providing and create tax-efficient strategies via smart contracts (ie. borrow against a token and take out a self-repaying loan and then provide liquidity with the borrowed funds, so no capital gains are due).
New innovative fee-based features will be introduced, generating new revenue streams
We'll continue putting emphasis on our community and incorporating user feedback
Part of our growing treasury will be reinvested to drive the adoption and utility of the VISION token.
To support our roadmap, we will expand the team and hire additional developers
Advanced new features
APY.vision's mission is to help liquidity providers make confident investment decisions and maximize their returns. To continue delivering on this mission, we plan to introduce new features that support the portfolio tracking side and further expand on the research side, providing our users with ways to surface the best APYs across the DeFi space.
Some of the features planned include:
New farming and vault contract analytics and opportunities
Improved pool analytics with refined statistics (daily APY/IL, underlying tokens divergence, contract safety)
Automation of liquidity providing activities based on user parameters
Real-time alerts of user positions
Revamped historical portfolio data, and options to bulk export
A new way to enter pools without creating taxable events
An intelligent feature that gives you the ultimate alpha, putting you before the majority of the crypto market 😉
As a VISION token holder, you will get the chance to try and use most of these features exclusively.
VISION token gets a utility boost, and new membership plans
We're reworking our membership plans to drive more utility to the VISION token. As a current Pro or VISION2K member, you're all set to take advantage of the new tiers and new features.
However, we've also taken notes from your feedback and heard the needs for different membership plans. Therefore, we will introduce subscriptions that offer more of a pay-as-you-go model, opening the gates for new users and improving the utility of the VISION token.
Additionally, fee-based features will open up new income streams, which can be utilized in various ways, among these: increasing the liquidity of the VISION/ETH pool
Scaling up revenue generation
This year, you will see APY.vision's business model in action. We started generating revenue from our enterprise deals and will open up new revenue sources this year.
As we mentioned, new advanced features will be launched to help DeFi users save time maintaining their LP positions. Additionally, we are developing ways for users to set up automated position actions based on certain on-chain criteria. Tax-efficient strategies are another area where we think we can add value to users.
To take advantage of these features, users pay a small fee that goes directly to our treasury and can be used for various goals. This revenue stream scales with the growing number of users.
We build what drives value
We hear you. Our core principle is to gather as much feedback as possible from our users to make our app even better. We run surveys and do user interviews to build a product that will be successful in the long term. We're working hard to make APY.vision sustainable, and we've made incredible progress in the background.
Thanks again for your feedback. Every piece of input takes us closer to building a product people want to use and pay for. If there are features you would like to see added to the website you can make suggestions or vote on previous suggestions here!
Improving user experience
We set a high standard for data quality and app availability.
Apart from shipping new features, our engineers improve the app's response time, user experience, and data accuracy. We plan to provide more in-app explanations and provide a more in-depth review of our data and calculations so that each user can confidently use and rely on our data. Every ticket you submit and question you ask helps us make the app more reliable and our data more accurate, keep them coming.
Scaling up the engineering team
This is a lot of work. To deliver the features outlined in our roadmap, we need to further expand our engineering team. It's an ongoing process and has been evolving since the inception of the project. Now we have streamlined hiring processes in place that make finding, evaluating, and onboarding new team members easier.
If you're an engineer working with web3 and backend technologies, please do not hesitate to drop us an email or Discord message. We likely have a position for you, and you can be part of a growth-minded, fully-remote team.
Conclusion
We're relentlessly executing on our vision to provide a best-in-class analytics platform for liquidity providers and DeFi users. We're making incredible progress every day, and we are excited to see how APY.vision will evolve in 2022 and beyond.