APY.VISION 2020.51 Update

Hi LPs, thank you for catching up on this week's update from APY.Vision. We will start writing a weekly update on what has been done and what we will be doing for the next week.
Our Mission
We want to build the best analytics and alerting / monitoring tool for Liquidity Providers, a profession that did not exist even just 1 year ago. As we look forward to 2021, advancements in the DeFi space will require additional monitoring / analytics tools to be built.
Notable Accomplishments Last Week
We started a few campaigns with Sushiswap and 88MPH to give away limited edition NFTs that will unlock access to the PRO edition of APY.Vision.
We wrapped up the Gitcoin Grants donations. We ended up getting over $20k USD — thank you community, for all the generous support. We will be personally thanking each and everyone one of you. The whole team is humbled to be the top team by Match Estimate in the Dapp category and taking the 4th top overall in the Gitcoin Grants round 8 for the most matched.
New Features Added
Added current ETH price on the top section
Added a new subgraph to track the price of ibETH
Added the performance of holding the tokens vs. Net Market Gains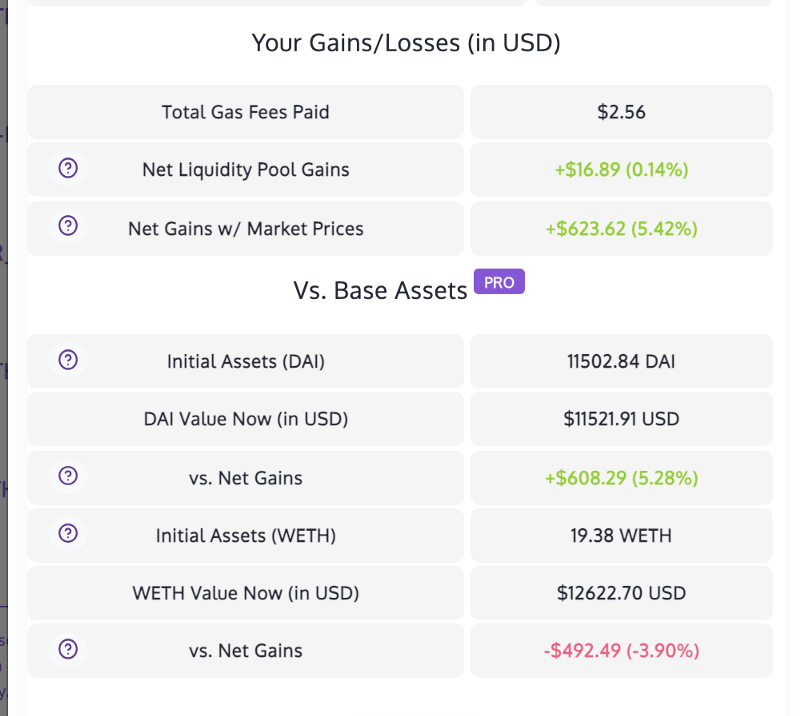 Added in the market prices at the time of execute in the transaction history
Added the Liquidity Gain per 1k USD as a chart
Added pool start date on Advanced Pool Details
Added help on the advanced search pool page
Added viewing your Exited Pools to see historical performance
We now support Sushiswap advanced search pool pages!
New Content
We published some new educational content to help the community understand liquidity pools.
Personnel Updates
We recently brought Aaron to the team to help out with outreach and liquidity providing evangelism and education. If you are looking to collaborate with our project, reach out to him on Twitter, Discord, or Telegram!
We are excited to bring Jeremy on board next week as our UX designer. He will be helping us with the Exited History more info page as well as the Season 1 Leaderboard (more details on this next week)!
Our core dev, Tom, has agreed that he has only the best interest of the project, so he's adjusting his token vesting emission rate to drop by 50% in the first year as a sign of confidence to all community members (the 50% token vesting will move to year 2/3, spread evenly). In exchange for delaying the token vesting, he will be receiving a stipend each month for his full time work on the project.
We are looking for a Front End/Web3 Developer! If you know someone who lives and breathes DeFi and would like to contribute to APY.vision, please let the team know on Discord! https://discord.gg/ePfGAYbqUq
Until next week, LPs!
APY.Vision does not give investment advice and always insists that you do your own research. Read our full Legal Disclaimer.
Check out APY.Vision!
APY.Vision is an advanced analytics tool for liquidity pool providers and yield farmers. If you're using any DEXs, AMMs, or liquidity pools this is the tool you will need to easily track the ROI of your liquidity provider and yield farming activities. Try it now!
More Educational Content